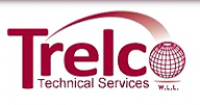 Last Login : Not Available
Total Views : 780
TRELCO TECHNICAL SERVICES WLL
Doha,Al Sadd
Address : 1st Flr, Sports Corner Bldg, Al Khalijee St,
Phone Number : 44371360 , 44372709 , 44429505
Fax : 44370947
E-mail : info@ttsqatar.com
About TRELCO TECHNICAL SERVICES WLL
T.T.S is a Investment Holding Group company (Chairman – H.E. Gen. Ghanem Al-Hodaifi Al-Kuwari, Minister, Qatar Govt.) which was established in 2003 to address the growing market need for professionally managed I.T services and products. This was achieved through strategic partnerships with leading US and Indian companies. The market acceptance and continued growth of the I.T division led to the creation of Trelco Technical Services (T.T.S) as an independent entity within Investment Holding Group.
Give a Rating
Write a Review