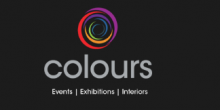 Last Login : Not Available
Total Views : 849
Colours Events & Exhibitions
Manama,Manama
Address : Unit 7? Building No: 2568? Road 4450? Block No: 744? Manama 744
Phone Number : 17295917
Fax :
E-mail : info@coloursbahrain.com
About Colours Events & Exhibitions
Operating in the Kingdom of Bahrain for the past 15 years; today we execute projects anywhere in the GCC. A full-fledged operations team and an unmatched in-house production facility at your service. With our own design house, we identify creative ways to conceptualize your space and bring them to life.
Give a Rating
Write a Review